College of Interdisciplinary Studies
Finish Your Degree
Finish Your Bachelor's Degree at Tennessee Tech University
Accredited by the Southern Association of Colleges and Schools (SACS)

It's never too late to finish your degree…and we can help.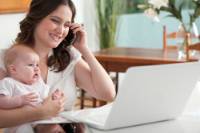 An accredited bachelor's degree crafted for today's marketplace is your fast track to bigger earning power and career satisfaction. Use those old college credits and apply them toward a bachelor's degree in two of our most flexible program options, designed specifically for working adults.

Bachelor of Science (B.S.) Interdisciplinary Studies / Customize Your Major
This degree is the ultimate in flexibility, allowing you to create exactly the learning environment you seek. If you apply for admission by August, you could start your studies as early as this fall.
A bachelor's degree in Interdisciplinary Studies allows students to customize a course of study to match their personal and professional interests
Program available on-campus and online
Our 2+2 Interdisciplinary Studies programs are available at area community colleges: Cookeville Higher Education Campus (CHEC), Columbia State Community College (Lawrenceburg), Roane State Community College campuses (Crossville, Oak Ridge, and Scott County), and Motlow State Community College campuses (McMinnville and Moore County). For more information, please visit https://www.tntech.edu/cis/sis/adult-learning-2plus2.php
Bachelor of Science (B.S.) in Professional Studies / 4 Degree Concentrations
Get the tools you need for management positions, with concentrations in Health Administration, Information Technology, Organizational Leadership, and International Organizational Leadership. Move past entry-level and into a career that's more challenging and offers higher salaries.
Tennessee Tech's Professional Studies bachelor's degree programs offer four (4) online degrees through the TN eCampus.
State Authorization for Distance Education Students
College of Interdisciplinary Studies
For more information contact:
Jeannie Smith
931-372-6238
jeanniesmith@tntech.edu