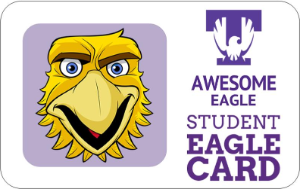 The Eagle Card is the official identification card for the university. Eagle Cards are valid for the duration of your education at Tennessee Tech.
About the Eagle Card Office
The Eagle Card Office is committed to providing a quality and effective service to the University which results in enhancing the academic, as well as administrative, experience at Tennessee Tech. In addition to serving as the official ID card of the University, the card provides students, faculty, and staff with appropriate identification, access, and debit services.
Office Information
Location: Roaden University Center, Room 119
Hours: Monday - Friday; 8 a.m. - 4:30 p.m.
Phone: 931-372-6232
The card serves in the following capacities: