College of Graduate Studies
Graduate Admissions
Considering Graduate School?
We're here to help! On-campus or online, we've got you covered with more than exceptional programs that offer outstanding outcomes for your future!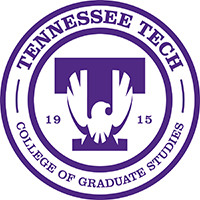 At Tennessee Tech, your path to advancement continues with a graduate degree from a quality university that is nationally ranked. Tennessee Tech offers graduate degrees from the master's to the doctoral level, including a specialist in education degree. You will find a variety of programs with over 20 majors and 60 concentrations to help you move forward in your career. You will also find a caring, professional, knowledgeable and well-regarded faculty who strongly desire to see you succeed. Enjoy networking and building relationships with classmates and professors as you work toward achieving your goals.
Note to Online Students Outside of Tennessee: Only residents of states approved by NC-SARA may apply for online courses. Please check and confirm that your state is eligible before applying.
Questions? Contact us!
Learn more about specific degree programs by requesting more information.
Request Information
Contact Info
Mailing address:
Tennessee Tech University
College of Graduate Studies
P.O. Box 5012
Cookeville, TN 38505
Courier/Physical Address:
1 Wm L Jones Dr, Rm 306
Cookeville, TN 38505
Phone:
931.372.3233
931.372.3497 (Fax)
Contact Us: Contact Us