Printing services is your on-campus solution for all your printing needs. We offer products from simple black and white copies all the way up to large format banners and signs.
We are located on the ground floor of the University Services Building and not only do we offer our services to the university but we are open to the public as well.
Stop by and talk to us and let us help you with all of your printing needs. We are here Mon - Fri 8AM - 4:30PM.
Submit a printing services request
Have questions? Contact us at (931) 372-3212 or printingservices@tntech.edu.
New Services
We are excited about some of the new ways we are able to print. Our state of the art equipment allows us to print on just about anything. We can print yard signs, vinyl banners, retractable banners and more. We have even printed on wooden pallets, metal, plastic and many other materials as long as it will fit in our machine and has a relatively flat surface we can print on it.
Is there a product or service you need that we don't currently offer?
Please let us know. We want expand to your needs.
Available Services
At Printing Services we offer a wide range of different printing and binding options in-house for your convenience. Submit a Printing Services request »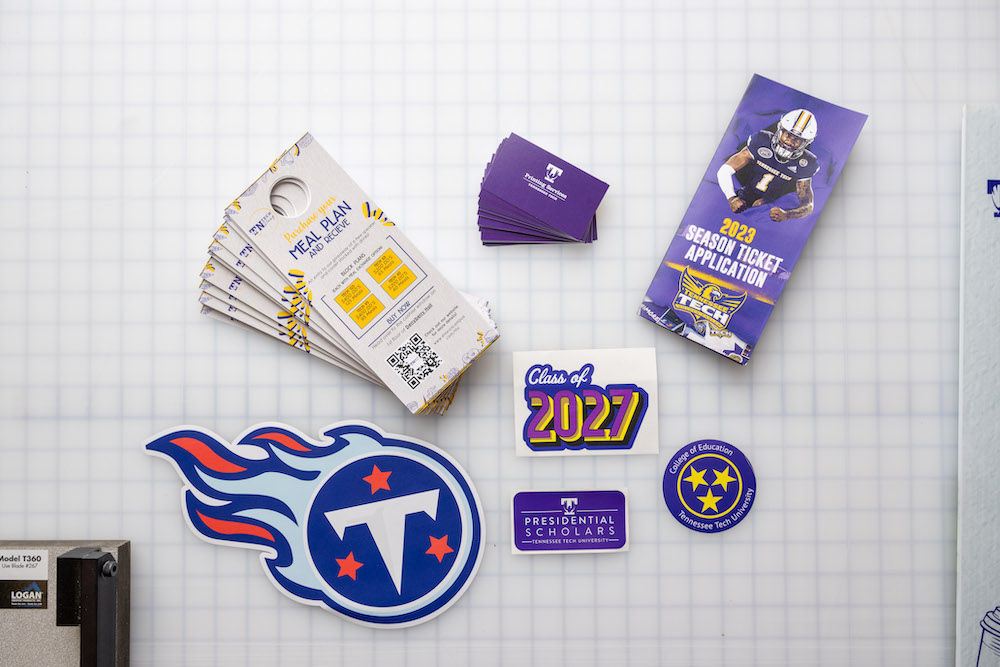 Printing Services

Black and White Printing
Color Printing

University Stationary for Faculty & Staff

Business Cards
Letterhead
Envelopes

Bindery Services


Booklet Making
Coil Binding
Perfect Binding
Stapling

Finishing Services

Cutting
Folding
Laminating
Foam Board Mounting
Paddling
Perforating

Digital Services

Document Scanning
Text Recognition

Wide Format (NEW)

Large Format Vinyl Banners
Yard Signs
Wall Wraps
UV Cured Vinyl Stickers
Sticker Rolls
Metal Street Signs
Print directly on Foam Core Boards
PVC Boards
Ceiling Tiles
Mini & Full Size Retractable Banners
X-Stand Banners
Premium Photo Printing
High quality photo prints are now available. Request prints using the form below.
Wallet Set 6"x4" - $1.59
4x6 inches - $0.49
5x7 inches -$2.99
6x6 inches -$3.79
8x8 inches - $3.99
8x10 inches - $3.99
8x12 inches - $7.89
11x14 inches - $12.39
12x18 inches - $14.99
16x20 inches - $22.79
University Stationery Requests
To request a printing order, such as business cards, letterhead, envelopes, or more, fill out one of the following request forms:
» New Printing Job Request Form
» Business Cards Request Form
» Letterhead Request Form
» Envelopes Request Form