Nursing Majors
Be a Nurse and a Leader
NOTE: The TN Tech Nursing Program reserves 2 upper division seats every semester for Cadets who meet the minimum entry requirements and are seeking acceptance into the upper division program.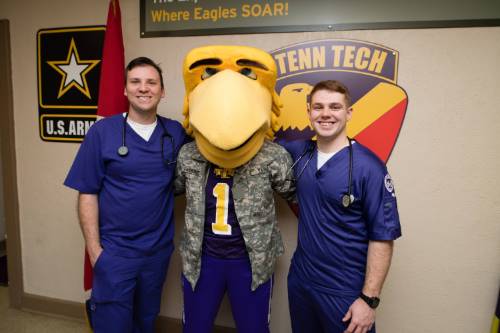 You have chosen to pursue a noble profession because you care about serving others. TN Tech ROTC wants to help serve you by enabling you to get the most out of your degree. In addition to the benefits and scholarships available to all Cadets, nursing Cadets have the opportunity to participate in the Nurse Summer Training Program (NSTP). This paid clinical internship allows nursing Cadets to get hands on experience at one of the Army's state of the art medical facilities located in Hawaii, Alaska, Germany, or at multiple locations across the continental United States.
After graduation you will join a team of dedicated professionals and be an integral part of the U.S. Army healthcare team. To help you advance professionally, the Army Nurse Corps offers courses that cover a wide range of nursing specialties and provides opportunities to pursue fully funded graduate degree programs.
Check out this informational video:
Take the first step towards becoming a leader, maximizing your nursing education, and getting a scholarship. Contact us today!