Transfer Students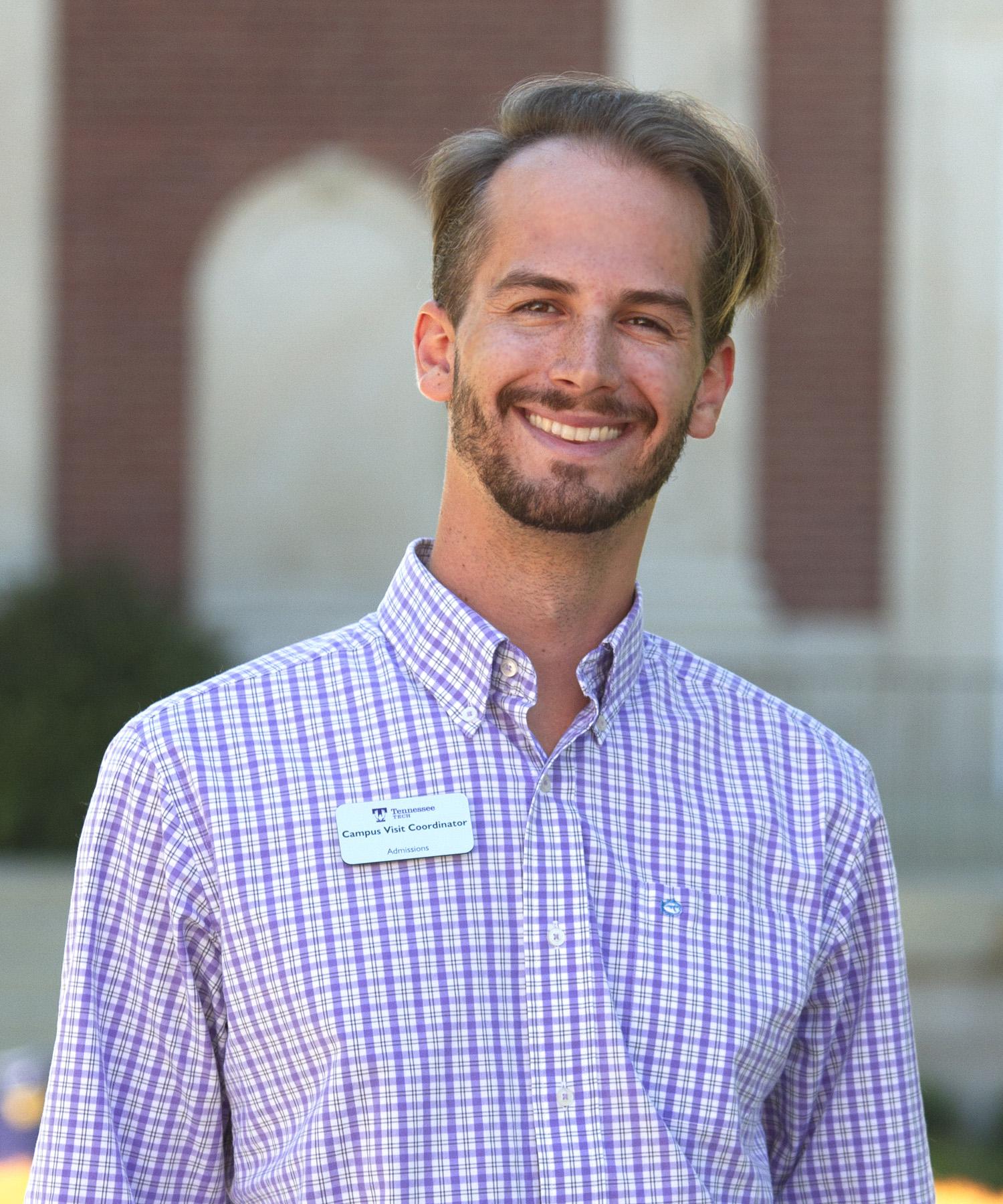 Alex Callis
Transfer Specialist
"You belong here at Tech. Tech has so many resources in place to make sure you are successful while you are a student here."
Do you know what else we care about? We care about you after you have graduated. We care about you when you are a future nurse, a future teacher, or a future engineer. We embrace your tenacity and diligence in pursuing your education. We're confident you will be rewarded by helping you earn your degree in the quickest way possible. Come see for yourself or reach out to me if you have any questions. Wings up!"
(931) 372-3633 | tacallis@tntech.edu
Visit Campus
Tech is an amazing university to transfer to and we would love for you to see for yourself! You can either take part in our traditional VIP campus visit or take part in a transfer specific visit to campus. Please see all available Transfer VIP visits below.
If you are unable to make it to campus, you can schedule a Virtual Meeting with Alex Callis, Tech's transfer specialist!
---
Steps to Tech:
» Apply
» Credits
» Enrollment Checklist
» Scholarships
» Reverse Transfer
» Already Admitted?
» Transfer Orientation
---
Apply
If you are ready to apply right now, please, Apply Here, choose the Undergraduate application and Transfer Student as your student type.
Requirements: Transfer Students with 24 hrs of transferable credit are admissible if they have a 2.0 GPA overall and a 2.0 in their last full time semester or 12 credit hours. For more information about requirements, including those for other student types and other programs, go to Transfer Requirements.
Applications Currently Open:
Spring 2021 - open until January, 2021
Fall 2021 - open until August, 2021
---
Credits
Want to see how your credit will transfer to TN Tech? Please go to Transfer Credit. If you are asked in the future to fill out a "Course Substitution Form" for a class you have previous taken, here is a link to the Course Substitution Form.
---
Enrollment Checklist
Here is the list of all the necessary steps in order to enroll at TN Tech!
---
Scholarships
Transfer students can qualify for both Financial Aid and Transfer specific scholarships! Don't forget that the Tech Promise is also here to help make your degree even more affordable.
---
Reverse Transfer
If you are transferring from a Tennessee Community college before receiving an associate degree, you may be able to earn your associate degree while also working toward a bachelor's degree at Tennessee Tech through the Tennessee Reverse Transfer Program. For this program, your community college will need to periodically review your academic progress at Tennessee Tech. Contact Tech's transfer specialist, Alex Callis, at (931) 372-3633 or tacallis@tntech.edu for more information. You can also visit our Reverse Transfer page.
---
Already Admitted?
Go to the Admitted Student webpage to find out what steps are next in your journey to becoming a Golden Eagle!
---
Transfer Orientation
All new transfer students are required to attend the Transfer Orientation. You can find more information about orientation at Transfer Orientation.