Department of English
Welcome
Welcome to English! Virtually all students at Tech take our courses. English is also its own robust major housed in the College of Arts and Sciences and located in Henderson Hall. We offer undergraduate and graduate courses in literature, creative writing, theater, professional communication, and composition. When you major in English, you join a community of students who are passionate and dedicated. Our faculty are student-oriented and excited to work with you.
---
Choose Your Concentration
Customizing your degree according to interest area is a feature of our program. Another is that an English major pairs well with other fields by offering flexibility in electives. We offer a B.A./M.A. Fast Track Program which allows motivated students to complete courses for dual undergrad-graduate credit. If your major is in another field but you are interested in our courses, you may want to declare English as a minor.
Tennessee Tech's English Department now offers two certificate programs: the Certificate in Editing and Publishing and the Certificate in Technical Writing and Communication.
B.A. Details & Advisors | M.A. Details & Faculty
---
Why English?
When you study English at Tech, you will benefit from small class sizes, personal relationships with professors, your pick of extracurricular activities, and lively events. Students say they like these aspects of our community:
Fun Extracurriculars ›
Poets and prosers, join the Creative Writing Club. Community-builders, join the English Club. We also have a Professional and Technical Communication Club.
---
Creative, Flexible, Entrepreneurial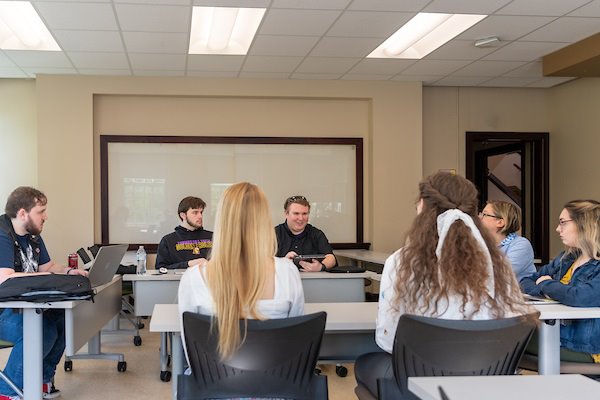 Tennessee Tech English graduates are unique, but they share these qualities. If you are looking for a degree that helps you develop intellectual curiosity, cultural awareness, creative expression, and effective communication skills, we invite you to get to know us. Request information or schedule a visit below, or connect with us on Facebook.