Golden Eagle Travel
---
Upcoming Trips:
Great Trains and Grand Canyons
---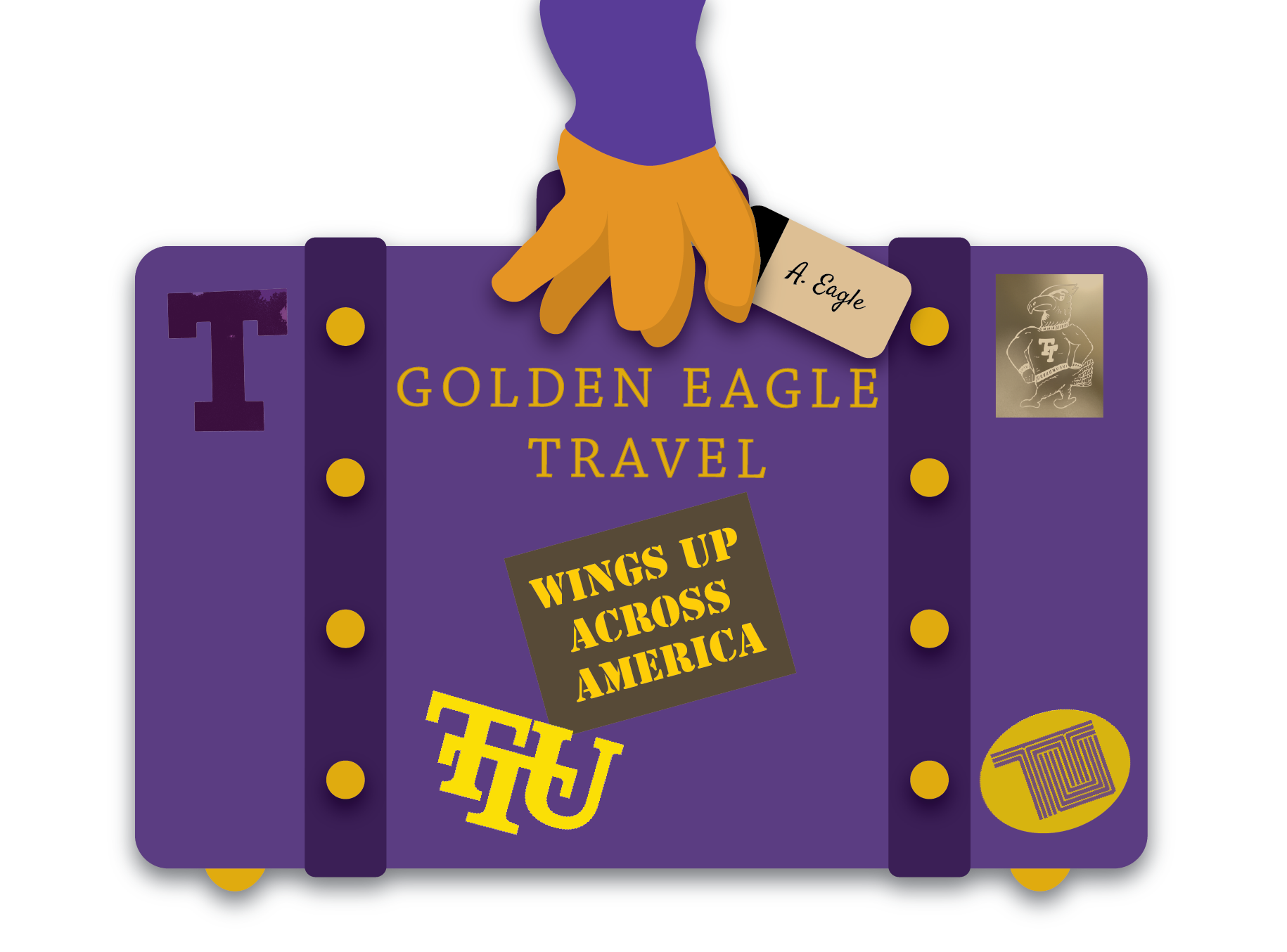 Tennessee Tech is excited to offer exceptional travel opportunities for alumni, faculty, staff and friends. Experience the comradery of exploring the world with your fellow Golden Eagles. We partner with companies who specialize in group travel, and we take care of all of the details so you can relax and enjoy your vacation.
Due to limited space, we encourage you to sign up for the tours you are interested in as soon as possible. Email alumni@tntech.edu with questions or suggestions for future itineraries.
Wings Up…Across America!
---
-African Safari to Tanzania
September 10 - 16, 2023 and February 4 - 10, 2024
Is an African safari on your bucket list? What if you had the chance to travel with fellow alumni, utilizing a Tennessee Tech alumna-owned safari company? We are excited to partner with Trailblazer Safaris to offer, unique, exclusive small group safari experiences for alumni and friends!
We'll visit Tarangire National Park, Ngorongoro Crater, Olduvai Gorge and Serengeti National Park, just to name a few. One of the highlights of the trip will be a hot air balloon ride over the Serengeti! Few destinations can compare with Tanzania. Experience the wildlife, people, culture and unspoiled landscapes on this trip of a lifetime.
For more information, visit trailblazersafaris.com or contact Tennessee Tech graduate and Trailblazer Safaris owner Melisa Cansado, `05 world cultures and business, at info@trailblazersafaris.com or 573-258-0807.
---
-Great Trains & Grand Canyons
March 3 - 8, 2024
"The Grand Canyon is the one great sight which every American should see." In 1903, President Theodore Roosevelt said this when he first laid eyes on one of nature's most awe-inspiring sights. Every traveler should explore our own beautiful American West, and that is exactly what you will do on this exciting trip to Arizona. This travel experience features a combination of American West highlights with the scenery of Grand Canyon National Park & the red rocks of Sedona, the Native American history at the Montezuma Castle National Monument, the Old West nostalgia of Two Train Rides & 5 Nights at a picturesque property in Sedona, Arizona. Just north of Phoenix, Sedona is known for its jeep rides, artist galleries and breathtaking red rock scenery, and is the perfect "home base" for this 6 Day/5 Night adventure.
---
-Albuquerque Balloon Fiesta

October 9 - 14, 2024
Travel with us to the Land of Enchantment to enjoy New Mexico's beautiful landscapes, history and architecture. A highlight will be the world famous Albuquerque Balloon Festival, the world's largest & most famous hot air ballooning event. Witness the Mass Ascension, which includes over 500 balloons taking to the sky. Also experience the balloons up close and illuminated on solid ground during the Balloon Glow.
Enjoy 3 nights in Santa Fe, founded in 1607 making it America's oldest state capital city and 3rd oldest continuously inhabited U.S. city. Enjoy a Santa Fe City Tour with a local guide featuring the Santa Fe Plaza, the Palace of the Governor's, built in 1610, and a visit to the Loretto Chapel to learn of its mysterious past. Santa Fe is part of the UNESCO Creative City Network as one of the most important art markets in the world, and is renowned for its beauty, Pueblo-style architecture & museums.
Learn more about New Mexico's Native American history and culture with visits to the Indian Pueblo Cultural Center and the Taos Pueblo. The Taos Pueblo is a UNESCO World Heritage Site featuring ancient Pueblo homes which have been continuously inhabited for over 1,000 years. A few of the other attractions during this program include Old Town Albuquerque, the "High Road to Taos" & Los Alamos Bradbury Museum, which tells the story of this isolated town and its role in the Manhattan Project.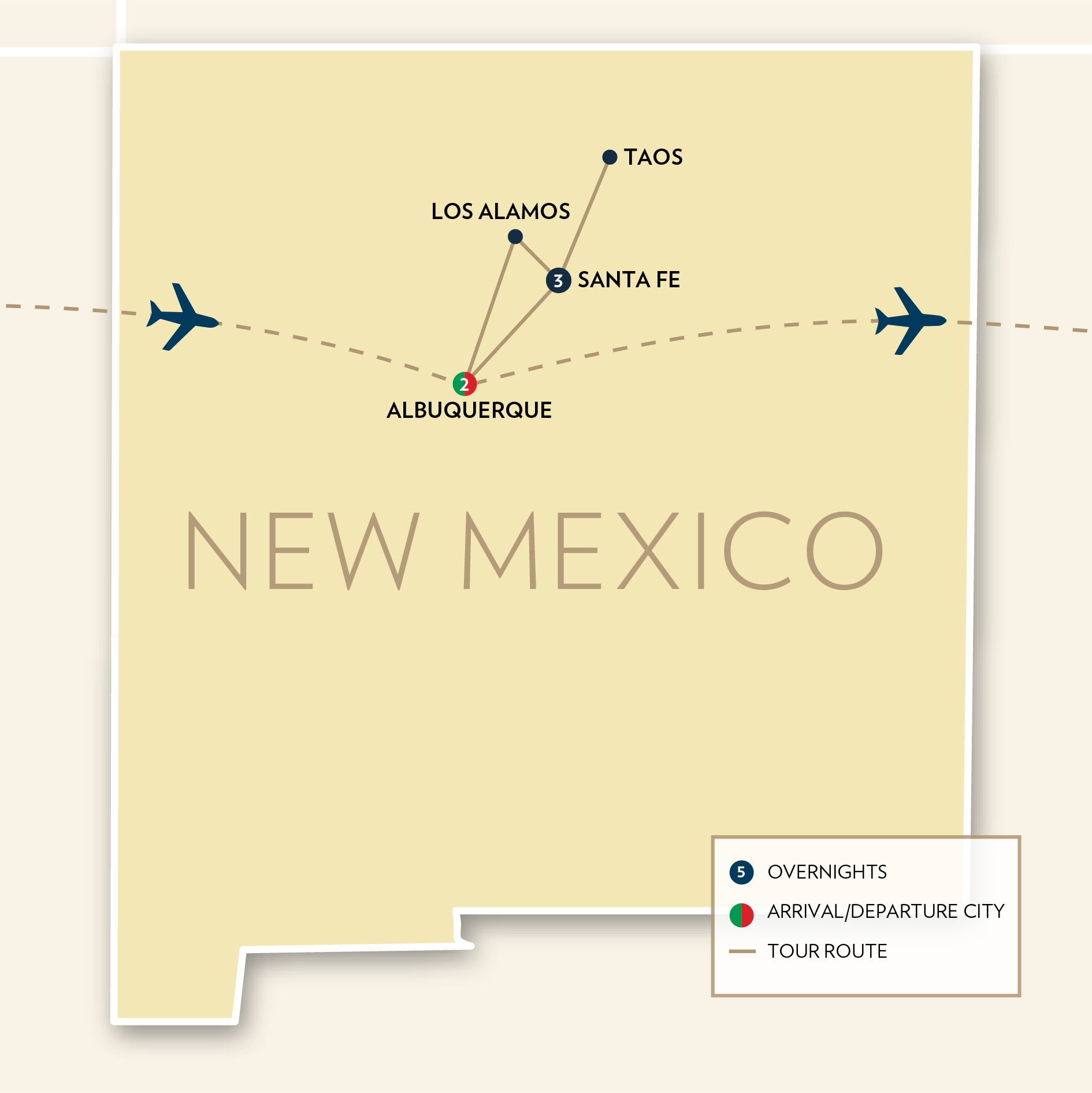 Register at Premier World Discovery using web code 167745.